Sale
Ruined property for sale located in Pla de l'Estany.
Opportunity! Rustic land for sale in Espinavessa, of 33,000m2 with a cataloged ruin within the special plan for identification and cataloging of farmhouses. Possibility to build a two-story single-family house, of 100m2 each. With a well. Quiet area and accessible by flat track. 15 minutes away from Besalú/Figueres/Banyoles.
Ruined property for sale located in Ripolles.
Land for sale in Planoles with 6485m2 of terrain and a ruin to restore. There is water and electricity nearby, pending a quote. The location is excellent and peaceful, situated in an idyllic spot in the middle of the forest with oak and walnut trees, among others, and a river that borders the east. Good access and only 5 minutes from...
Ruined property for restoration located in Vall de Bach.
Ruined property located in the Vall de Bianya. 10 minutes away from Olot. It has a total area of 185m2 and needs restoration, plus a small annex. Comes with 25 hectares of land with good access. There is no water or electricity, but the possibility to install them exists. Good access.
Price on request
Old mill for sale located in Ripollès.
Mill for sale located in Ripollès, dating back to 960 with well-consolidated walls. The entire building is classified and recognized as a High Historical Value Building, as it is included in the Inventory of the Architectural Heritage of Catalonia. It has a license for rehabilitation works and the possibility of expanding the built area....
Price on request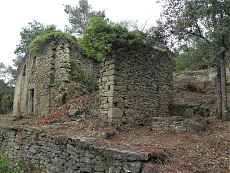 Authentic farmhouse to restore, located in Sales de Llierca.
Rustic estate with a ruin for complete restoration. Ideal for tourism business, horses, etc. Set in a wonderful location with abundant water and electricity line to the property. Very peaceful area.
Farmhouse to be restored, ideal for a restaurant.
Farmhouse located next to a stream, at the foot of the road from Banyoles to Olot. Originally it was a mill and later it was converted into a hostel. It has farmland, riverside forest, and oak forest. The house has a very well-preserved stone structure, ready for immediate restoration. It is over 300 years old and ideal for opening a restaurant....